Rating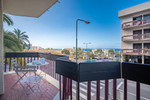 Rated on: 09.12.2022 Length of stay: 15 days
This particular property was too loud for me due to the proximity of traffic, restaurants, and a construction site. However, the landlord moved me to a quieter property within 24 hours of check-in at no additional cost and I was very happy there. It was clean, safe, comfortable, with fast internet. All-around good experience.
Neighborhood
Upscale part of São Martinho with shops, restaurants, and close to the sea.
Recommended places nearby
Bakery and coffee shops on the same block.

Kristin W.