Rating
Owner's overall rating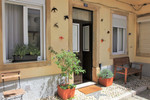 Rated on: 30.12.2022 Length of stay: 20 days
Very nice authentic patio. Great neighbors. Apartment with balcony. Quiet area.

Liudmila G.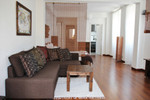 Rated on: 10.10.2022 Length of stay: 18 days
Apartment is very nice, with all wooden furnitures and nice decoration. Apartment is spotless, with everything you need from ironing board to umbrella. The cleaning lady Valeria is so friendly and helpful, she gave me all the tips for nice places to visit and eat. I enjoyed my time here everyday. Oh and if you are a dog person, there's a friendly dog hanging around, she is so adorable.

The first issue I found is if I want some privacy, I need to draw all the curtains which blocked all the sunlight, and at day time there was a construction going outside the apartment so it was a a bit noisy and there were people coming and going all the time. If I want to get changed or just feel a bit more "free", I need to draw all the curtains. This made me feel a bit concerned during my stay. However I'm sure when the construction is done the place would be so quiet and peaceful with fewer people walking outside.

Ziwei H.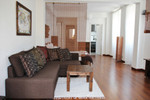 Rated on: 24.03.2022 Length of stay: 1 month
I've stayed in countless long term apartments around the world, and Tim's place is one of the best. He has thought of everything and it really feels like a home.

Graca is a lovely neighborhood with a distinctly local feel. You'll have to walk up some seriously steep hills if you're coming from the center, but it is very, very worth it. The flat is a 2 min walk from the highest (and very happening) miradouro in Lisbon. There are multiple supermarkets, cafes, and a lovely plaza just down the street.

The flat itself has cleaning supplies, comfortable bed, a washer, dishwasher, excellent wifi, a coffee maker, and a TV with HDMI capabilities.

The only thing is that in the photos it looks like the backyard is private. It's not your own backyard, but it's shared by a few houses. It never posed an issue for me. All the neighbors are just lovely and there's an adorable dog that hangs around as well.

You won't regret staying here!
Carrie T.

Rated on: 18.02.2022 Length of stay: 15 days
Cosy apartment in the neighbourhood of Graça. Spectacular view, well equipped kitchen, overall clean. The landlord is lovely and I'm thankful for this experience:)


Michaela S.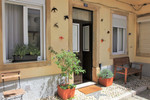 Rated on: 02.02.2022 Length of stay: 27 days
Tim was quite hospitable, the first day a bottle of wine was waiting for us. Cleaning was done regularly. The apartment was in very good condition with everything you need.

Matthaios S.
References
No references are available so far