Rating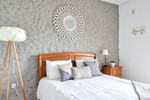 Rated on: 20.01.2022 Length of stay: 1 month
Highly recommend! Location: perfect for us: exactly .75 mi. from center of town…but all a beautiful and steep walk. The apt. overlooks a valley of bananas and of course the ocean. Patio: large and includes a covered grill/table/hot plate and more for your exclusive use…and it's decorated tastefully. Hot tub! (tip: set heat to 40 before you leave for the day and down to 36 overnight f you want it warm after dinner). Bed: super comfy…not too hard nor soft. Water pressure: adequate, but quick showers only if you run hot water at full-blast (no problem if you don't). Washing machine for your exclusive use (detergent provided). The apt. is under the owner's home, but in 2 weeks we never heard them at all! Amenities: perfect - there was nothing we wanted/needed for cooking, etc. that wasn't supplied (except a fly swatter and broom…so we bought and left in the room for future guests). The rental company was great people and easy to work with. Cons: sugar ants…we're super clean and they still arrived at any sign of sugar left out at all (tip: always wipe all surfaces keep honey in the fridge even if you diligently clean the outside of bottle after use and you shouldn't have a problem). Host family: wonderful! Even in our broken language communications they were some absolutely lovely and kind people! Also, the grandmother lives next door and left for us several warm, fresh baked goods during our visit…what a sweetie! That's it for cons…the place was great! Your visit won't let you down here! BONUS:: the black dog you'll pass every day over the gate is named (dang I forgot!) - she's just super sweet and cute - don't be shy and give her some love each time…we bought dog biscuits and gave her one at b'fast and one at dinner…her sweetness deserves the treats! Enjoy!!
Neighborhood
- location is up the hill from Ponta da Sol proper…just .75 mi. to walk down. Steep but beautiful walk! We didn't take public transport but often saw busses and a stop just a block or two away. Very safe feeling n'hood!
Recommended places nearby
Tip: the BP gas station down the hill in the traffic circle is a mid sized grocery, coffee and fresh bakery, too! Try the omelette sandwich and fresh squeezed orange juice (carrot and beets, too) … just 3€ for a 500ml bottle! Up the hill next street over from the apt. you'll find a couple different snack bars and a small market/bar that's well-stocked (fruits/veggies, too).

joe s.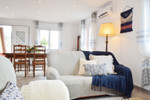 Great flat in peaceful neighborhood. Place was clean and well maintained, everything worked perfectly. Very happy with our stay.

Murilo S.
References
No references are available so far