Rating
Owner's overall rating

Rated on: 26.02.2023 Length of stay: 19 days
This.

Yan L.
Rated on: 16.03.2022 Length of stay: 19 days
Perfect
Victor G.
Všechno je v pořádku!
Roman M.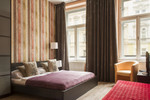 Rated on: 27.06.2021 Length of stay: 1 month
The team is really awesome: very reactive and very kind!!

François L.
Vše v pořádku. Celková spokojenost.

Lucie C.
The apartment is nice and clean in central location. All my expectations based on photos were met. Landlord's service was also excellent. Really enjoyed my stay.

Natalia S.
Rated on: 18.11.2020 Length of stay: 5 months
I had a great stay here. My apartment was comfortable, spacious, and modern, and the staff were always friendly and helpful. Fully recommended.

Louis M.
References
No references are available so far